There's just something about fall. Cooler temperatures and the gentle breezes seem to wash away summer's humid days. Fall is the time of s'mores around the fire, of leaves crunching under foot, of crackling fireplaces and warm sweaters. But most of all, fall is about those backdrops of lemon and maple, of vermillion and scarlet. Yes, it's about fall foliage.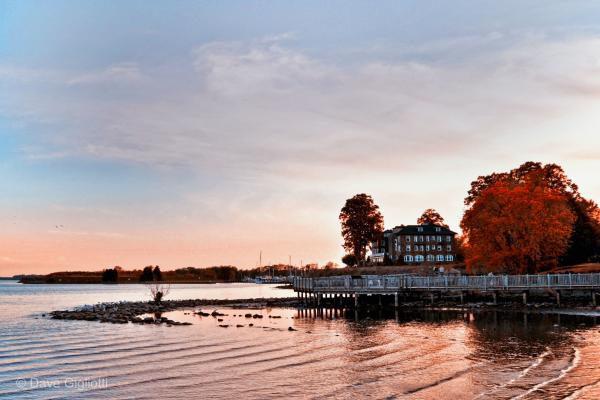 Photo Credit: Dave Gigliotti
Come late September, Maryland trees begin to work their color magic, and the state's varied topography, from the Chesapeake Bay to the western Appalachians, offers something for everyone. And if you're a visitor to the state looking for someplace to catch the season's patchwork tapestry laid against a variety of backdrops, look no further than Harford County.
Harford county is situated northeast of Baltimore and is bordered on the east by the Susquehanna River, to the south by the Chesapeake Bay, and to the west by forested, mountainous areas like Gunpowder Falls and Rocks State Parks. Each area offers a unique backdrop for leaf gazing and other activities bound to make your fall one to remember. Because of its more northern position in the state, Harford reaches its peak around mid-October so for best viewing aim for the second and third weeks of the month.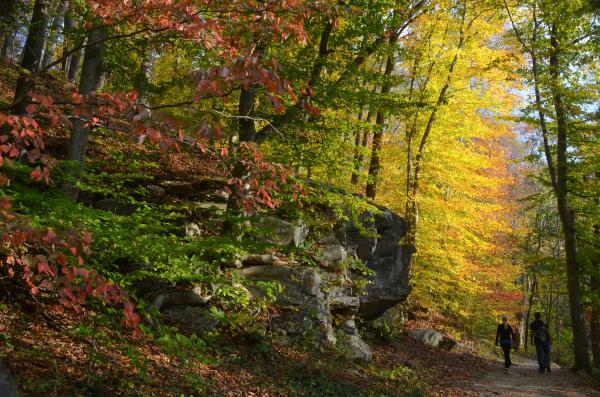 Photo Credit: Mitch Lebovic
A good starting point is in the quaint county seat Bel Air where the Ma and Pa Trail winds through woods and meadow. The mix of gravel and paved trail makes for an easy way to stroll under the rainbow of  Dogwoods, Sweet Gums, and Sumacs. And when the day is done, stop in at One Eleven Main on South Main Street to enjoy local specials like the baked avocado, seared sea scallops, and that quintessential Maryland dessert, Smith Island Cake. Or if you're looking to quench your thirst for fall, Looneys offers its Fall Cocktail menu where you can enjoy a Smorestini rimmed with graham cracker crumbs, an Autumn Gin Fizz, or a Caramel Apple Spritzer.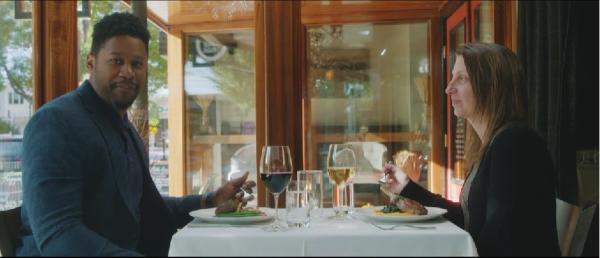 Featuring: One Eleven Main
Perhaps one of the most beautiful vistas for foliage chasers is Gunpowder Falls State Park whose 1,250 acres straddles Baltimore and Harford Counties. Here you'll not only get to stroll beneath a variety of old trees, including Black Walnuts, Birches, Hickories, and Beech trees, but if you happen to be an angler, you'll also find one of the best trout fishing spots in the country.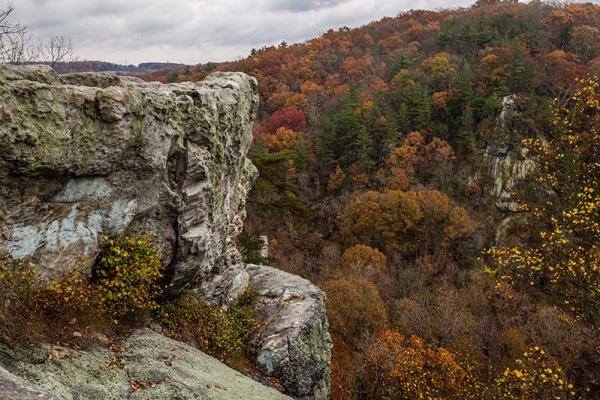 Featuring: King and Queen Seat at Rock State Park
Rocks State Park is another sparkling gem of fall colors. Hikers can spot the vibrant leaves of Virginia Creeper, Sassafras, and Spicebush along popular trails leading to The King and Queen Seat and the beautiful Kilgore Falls. Or if you prefer to do your leaf watching by car, you can take scenic Route 136 through the park.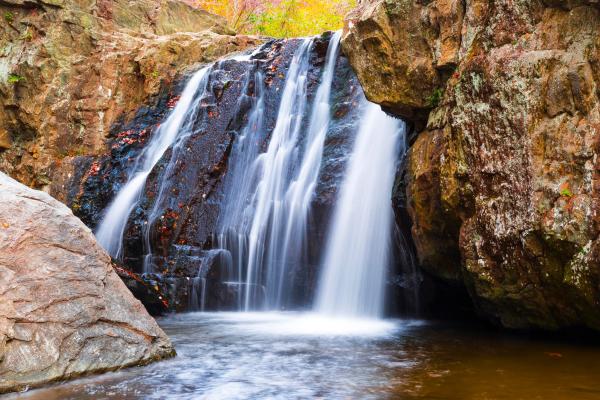 Photo Credit: Lisa Barkey
Finally, the majesty of a great river offers a reflective context for fall foliage at Susquehanna State Park. The park offers waterfront vistas and contemplative wood walks where you'll find wildflower meadows and waterfalls. Be sure to make your way down Deer Creek Trail, where you'll find a 95-foot-tall White Oak that is nearly 19 feet in circumference and an American Beech that is 97 feet tall and almost 16 feet in circumference. Make time as well to stop by the old Grist Mill, where you'll get a taste of history.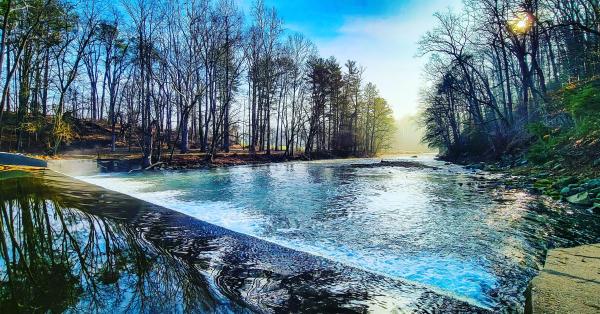 Photo Credit: Jim Thompson
–
Ivan Young is a writer in partnership with outdoor and recreational fabric retailers, Seattle Fabrics.