African American History in Harford County
Visit Harford recognizes African American history by highlighting the places in Harford County where you can explore and learn about local African American heritage and culture. Hover your cursor over each title for a link to learn more.
---

The Harford Civil Rights Project (HCRP), a free mobile app for download on App Store or Play Store, allows users to learn about the 20th Century African American civil rights movement in Harford County, Maryland. Located in central Maryland in the greater Baltimore region, civil rights activists, educators, students and others took actions in the 1950s and 1960s that boldly challenged the segregated status quo. They fought to de-segregate public schools, businesses, and hospitals. They participated in a 1961 Freedom Ride and protested unfair racist housing practices. The movement also included an effort to improve race and push back against unfair employment practices.
The HCRP website and mobile app includes location-enabled sites where users can learn about key events, individuals and outcomes that illustrate the region's role in the 20th Century African American civil rights movement. Sites may include text descriptions, images, oral history recordings and other material that illuminate the civil rights history of the greater Harford region.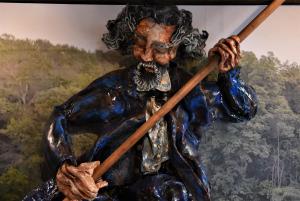 The Havre de Grace Maritime Museum has unveiled a new 600 square foot gallery in which an interactive exhibit tells the story of the Underground Railroad in the greater Havre de Grace area, including Harford and Cecil Counties in Maryland and around the Chesapeake Bay and Susquehanna River.
Estuaries, rivers and creeks provided a means of transport by boat; some of the men and women who are discussed in this exhibit utilized ferries and barges as they made their way north. However, this more covert way of traveling could present challenges. Disembarking from the ferry boats and having to provide one's manumission papers, for example. Sometimes, there was no railroad bridge or river crossing, or no way to get across, and they would need to think on their feet and keep their alibis straight. They had help along the way from "stationmasters" who operated stops along the "Railroad," places where an escaping slave could find shelter, food, and help continuing their way. You will find original art of these brave men and women, created by four African American artists, supplemented by the unique exhibit layout and design that was constructed by our skilled volunteers. We encourage you to see it for yourself.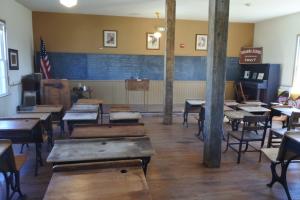 The Hosanna School Museum is listed on the National Register of Historic Places. It was the first public school in Harford County, Maryland built for African Americans in 1867, two years after the conclusion of the Civil War. Hosanna School Museum offers an array of historical and cultural events like their annual Juneteenth Celebration. The Museum helps identify Underground Railroad sites and conducts historic site tours. They also feature book signings, author talks, film screenings, discussions, lectures, genealogy workshops, youth workshops exploring traditional crafts, and more.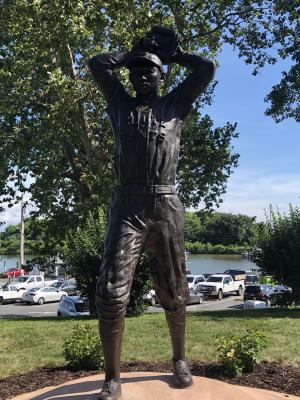 Born in Havre de Grace, MD on June 26, 1924, and orphaned at the age of nine, Ernest Burke was one of the first African Americans to serve in the U.S. Marine Corp during World War II. He earned the Rifle Sharpshooter Ribbon Bar and the WWII Victory Medal. Burke's honorable discharge as a Corporal included the commander's description of him as possessing "excellent character."
During his military tour of duty in the Pacific, Burke began to show extraordinary skill as a baseball player. Returning home from the war, Burke joined the Baltimore Elite Giants, a professional baseball team in the Negro Leagues, playing third base and pitching from 1947-49. Ernest also played semi-pro football, as a fullback, tennis and was a professional tennis instructor. From 1989-1993 he competed in the Maryland Senior Olympics.
As a humanitarian, Burke made many appearances at schools and public gatherings discussing his experiences and motivating others, especially children, to achieve. Before his death at age 79 in 2004 Burke actively promoted the history of the Negro Professional Leagues, which flourished in the first half of the 20th century prior to the breaking of the Major League Baseball "color barrier" by Jackie Robinson.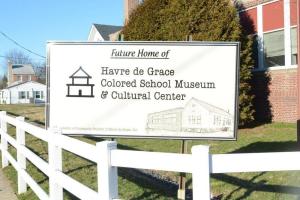 The Havre de Grace Colored School holds special distinction of being the first public high school for African Americans in Harford County, Maryland. The initial portion of the school was built in 1910 and served as an elementary school for African American children. In 1930, as a result of parental prayers and petitions, the county expanded the building to accommodate a high school. More than just brick and mortar, the 109-year-old historic school building symbolizes the lives and legacies of those ancestors who fiercely advocated for better educational opportunities for African American students. The building tells a story of their determination and perseverance.
The Havre de Grace Colored School Museum and Cultural Center (HCSMCC) celebrates the legacy of those that advocated for equitable access to education for African American students in Harford County. The 100-year-old Colored School began as a two-room structure serving primary grade students and later expanded to become the first public school in Harford County that provided high school education for African American students. The HCSMCC provides an opportunity for those who are interested in African American culture to explore and revel in this history through the museum's exhibits and historical displays. Programs and events throughout the year highlight the rich and diverse history of the African American community in Harford County and Havre de Grace. 
Fundraising efforts are underway to restore the former Havre de Grace Colored School. The goal is to convert the building into a museum and cultural center. The group hopes to have the restoration effort completed within the next three years. Mark your calendar for the Annual Arts, Wine & Jazz Fest at the Susquehanna Lock House Museum happening August 2022 which supports this goal. This event highlights several artisans, wineries, breweries, distilleries, and live jazz music performances by talented musicians.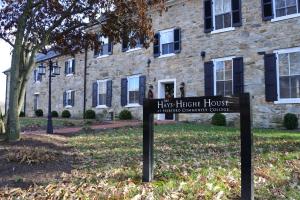 The Hays-Heighe House is associated with the Underground Railroad because "Sam" Archer escaped enslavement by Thomas Hays and revealed his experience with the Hays family to William Still, who documented it in his seminal book The Underground Railroad. Sam escaped to Pennsylvania in 1860, prior to Elizabeth Jacob's pending official inheritance in 1861.
Archer Hays was the original owner of Prospect Hill Farm, now the site of Harford Community College in Bel Air, Maryland. He is credited with building the main family dwelling, what we now call the Hays-Heighe House, in 1808. A well established and prosperous farmer, amongst his property holdings, Archer claimed humans—enslaved Africans, or "Negroes," as chattel. Thomas Archer Hays, Sr., eldest son of Archer and Hanna, inherited Prospect Hill Farm, as well as a portion of his father's chattel. Thomas was a wealthy lawyer and business owner who became recognized as "the father of Bel Air," the Harford County seat. In 1859, prior to his 1861 death, Hays drafted a Will that divided his assets among his children and brother, Nathaniel. His heirs also inherited Negroes. One such Negro was "Sam." Hays willed Prospect Hill and Sam to his daughter Elizabeth (Hays) Jacobs.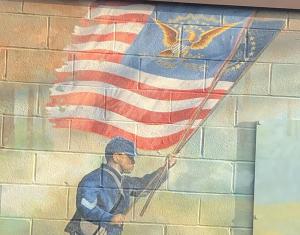 Alfred B. Hilton (c. 1842 – October 21, 1864) was born just outside Havre de Grace, Harford County, Maryland. He was an African American Union Soldier who fought and died during the Civil War.  Sgt. Alfred B. Hilton is the recipient of our nation's highest military award — the Medal of Honor. Hilton is one of 16 African American Union Army Soldiers who received the Medal of Honor for their service during the Civil War, and the only service member from Harford County ever to receive the award.
A mural by artist Jack Pabis brings the story of Alfred B. Hilton to life (pictured above). The Mural is located at 115 N. Bond Street, Bel Air, MD and is a part of Harford County's Mural Trail. Find out more about the mission of the Sergeant Alfred B. Hilton Memorial Fund, Inc. below - an organization working to preserve his memory and establish a memorial in his honor.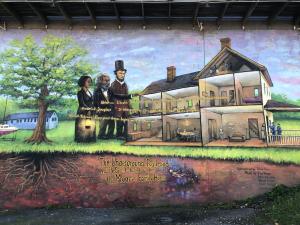 The Underground Railroad and the secret buried under the Moore Family Home. The City of Havre de Grace has renamed this large corner property as the "Moore Family Homestead" and the Havre de Grace Green Team grows vegetables in the Heirloom Victory Garden on the property that they donate to local food pantries. See the Barn Quilt at the Heirloom Victory Garden. 
---
Make Harford County your destination for relaxation. Head to the Serenity Salt Spa for relaxation, a massage, any of their other holistic services, and a crystal or two to take... Read More
Harford County's Mural Trail features the diverse range of art within our county.
Read More