What is there to do outside in Harford County in the summer, you ask? Whether you're looking to spend the day deep in the woods exploring over 100 miles of hiking trails, finding a new favorite restaurant or winery, or having a family picnic while enjoying an outdoor summer concert, Visit Harford can connect you with places and experiences that you'll love!
---

For Nature-Lovers and Foodies Alike: Harford County Trail Experiences
Harford County has several organized trails showcasing local artists, restaurants, history, and scenery. These self-guided trails will take you all over the county, from the back roads and farm land all the way down to the busy neighborhoods where residents live and work.
Our Harford County Snowball Trail is a collection of over a dozen classic snowball stands. If you've been craving that sweet marshmallow topping or just want to check out a new flavor, be sure to complete the snowball trail this summer! While you're working on the Snowball Trail, you can also explore Harford County's 10 breweries and wineries on our new Libation Trail. You'll wind up in nearly every major town in the county for a mix of relaxed winery views or an exciting night in Downton Bel Air. 
Looking for a tour of Harford County's most scenic and historic areas? Check out the Barn Quilt Trail! This trail celebrates the beauty, history, agriculture, and small business of the county with beautiful quilt designs painted on some of our best markets, farms, and historical landmarks. If that's not enough artwork for you, the Mural Trail showcases the diverse talents and tastes found throughout Harford County.
---

Explore Our Historic Waterways and Hiking Trails
If you're looking to experience history, nature, and beautiful views, look no further than Harford County's local and state parks offering hiking and walking trails, fishing, canoeing, kayaking, and historical landmarks. From atop the King and Queen Seat in Rocks State Park to the gentle waves on the Bush River shore, you'll find something for everyone in your family to keep you busy this summer.
---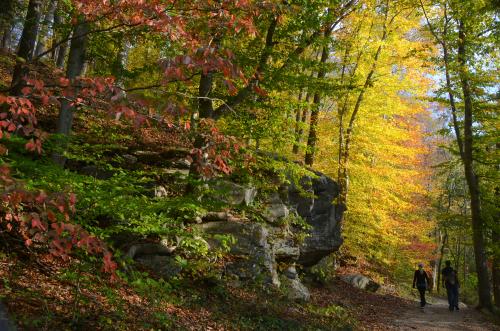 Hiking and Walking Trails in Harford County
Gunpowder Falls State Park straddles Baltimore and Harford County with over 100 miles of hiking trails. On the Harford County side, you'll find historic Jerusalem Mill, which is a popular photography spot and the oldest part of the park, and the Sweet Air Area, which is popular with hikers and horseback riders. 
Rocks State Park is home to the King and Queen Seat, where legend says Native American chieftains would sit in tribal council. The Falling Branch area, about five miles north, is home to the scenic, 17 foot free-falling waterfall which is the second highest falls in Maryland. Rocks State Park is an ideal spot for all kinds of outdoor activities like hiking, seasonal bow hunting, canoeing, and rock climbing. 
One of the most well-known trails in Harford County is the Ma & Pa Heritage Trail, which winds its way through much of Bel Air following the path of the old Ma & Pa railroad. This trail has multiple access points, so no matter where you are in Bel Air, you can easily find a place to hop on and get your steps in!
Finally, don't miss the Anita C. Leight Estuary Center in Edgewood, which hosts hiking trails in addition to leading educational programs and conservation efforts as part of the Chesapeake Bay National Estuarine Research Reserve. Walk along the Bush River at Otter Point, launch a canoe or kayak, or hike easy, wooded trails while spotting birds, fish, and other wildlife along the tidal marsh.
---

Family-Friendly Outdoor Activities in Harford County
Many Harford County neighborhoods feature small playgrounds, but there are several large parks and playgrounds for a family picnic, sporting events, and outdoor concerts. 
Tydings Park in Havre de Grace hosts outdoor summer concerts at the gazebo, which also features picnic tables and a large playground where the kids can safely play. You can also find weekly outdoor concerts at the amphitheatre in Shamrock Park in Bel Air, which also has a large green area and playground. 
Schucks Regional Park offers a sensory trail, pavilions, baseball fields, and a large playground, all situated across from Harford Community College. Just a little farther up the road in Aberdeen, visit Ripken Stadium to cheer on the Aberdeen Ironbirds, Harford County's own Minor League baseball team affiliated with the Baltimore Orioles!
If you're in the mood for mini golf, check out Churchville Golf Center for a classic mini golf experience, a driving range, and batting cages. Top the day off with a frozen treat from Arctic Circle, too! You can also find more outdoor mini golf at Mountain Run Mini Golf, which offers a beautifully designed, challenging course and pavilion rentals for parties and events.
---

Summer Fun in Harford County
We want to see you enjoying the summer activities Harford has to offer! Be sure to tag us on social media @visitharford and download the free Destination Harford app!
---