There's no better way to experience the culture and history of rural Harford County, Maryland than by hitting the road to travel through the gently rolling countryside. Bordered by the beautiful Chesapeake Bay and scenic Susquehanna River, Harford County is home to historic barns, family homesteads and public spaces that create stunning backdrops to colorful painted quilt designs. Harford County Barn Quilt Trail celebrates the beauty, history, agriculture, and small business of the county.
---
What is the Barn Quilt Trail?
A Barn Quilt Trail is a collection of barn quilts painted on barns and buildings throughout Harford County. We encourage you to visit our app, Destination Harford, to play along with our Barn Quilt Trail Passport and win prizes! On the Trail, you can find dairies, museums, farm markets, heritage farms, restaurants, natural areas, and back road adventures. Take your time, explore and shop. While you're here, be sure to visit some of the other attractions in the county.
Barn Quilt Trail Passport
It's easy to play! Just download our app: Destination Harford, click on Passports at the bottom of the screen, click Barn Quilt Passport and fill out the requested information. Get started by visiting one of the barn quit locations and check-in using your geo-location or take a selfie with the quilt to post to your social media. Be sure to tag us!
Visit 2 quilts and reach Novice Level

Visit 4 quilts and you'll reach Intermediate Level. At this level you earn a free Harford County Barn Quilt Prize!

Those that visit 8 or more Barn Quilts on our trail will earn a free Visit Harford Cooler and achieve Master Quilter status!
Keep reading to learn more about all of the beautiful stops on our trail! Now go enjoy the Harford County Barn Trail!
22 stops
Andy's Eggs and Poultry at Tower Hill
2601 Harford Road, Fallston, MD 21047
Quilt: Star Spangled with Chicken Overlay
Edward Roach bought Tower Hill in 1904.  When he died his daughter Agnes and her husband Will Bachman inherited the farm. Will ran a steam engine, sawed lumber, and threashed grain. Also, they milked cows, shipping milk and cream to Baltimore on the MA & Pa Railroad. Agnes and Will raised six children on the farm. Their oldest son, Charlie stayed on the farm working with his father along with  raising  chickens. Charlie also raised his son Butch on the farm.  They farmed together until Charlie died. Butch continued to farm. He married Jamey. They continued raising chickens, corn, grain, hay, produce, then hogs. They sold the hogs to Esskay in Baltimore until they closed. Jamey and Butch have three sons, Chuck, John,and Andy. All three sons help on the farm when needed, working together. Their youngest son, Andy now has his egg and poultry business on the farm. He raises chickens, turkeys, hogs and soon steers.   The oldest buildings on the farm are the house and stable.( circa 1860 or older) The barn was built around 1900. The barn and stable are an important part of our farming operation. The barn and stable have housed many bales of hay and straw along with many animals.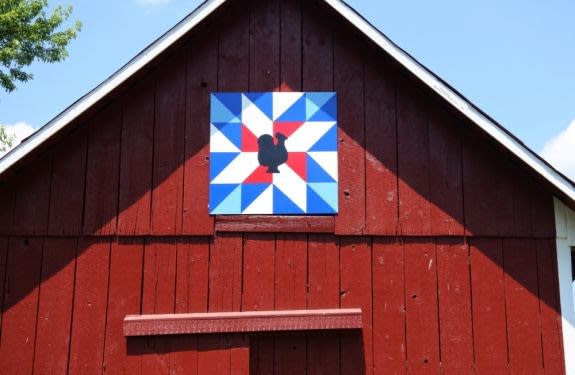 ---
704 Schucks Road, Bel Air, MD 21015
Quilt: Daisy
Boxwood Farms was originally part of Howard's Forest Farm which was purchased in 1961 from the Reed Edwards family by Sydney D Peverley Jr. At that time, Mr. Peverley moved his father's Holstein dairy herd from Joppa Maryland to Schucks Road and renamed the farm Howard's Forest Farm according to old tax records. Syd Peverley Jr continued to milk cows on the farm until 1973 when the herd was sold and followed with an Angus beef operation and continued raising grain crops. In 2004 a portion of the Howard's Forest Farm was passed on to Sydney D. Peverley lll and named Boxwood Farms. It is home to Boxwood Farms Landscape Services and also offers seasonal produce, cut flowers, sunflowers and eggs all grown on the property as well as fresh cut Christmas Trees.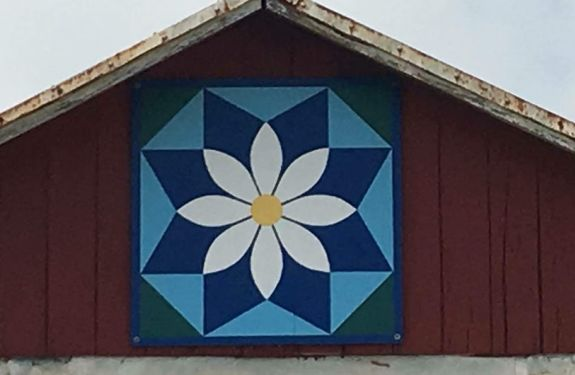 ---
550 Asbury Rd, Churchville, MD 21028
Quilt: Brad's Farm Album Quilt
One of the more recognizable farms in Harford County, Brad's has been a staple at the Bel Air Farmers Market for over 22 years. The quilt for this location is located at the front of the barn facing Ashbury Rd.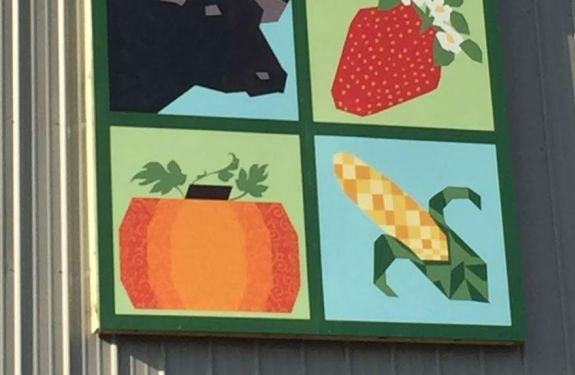 ---
1700 South Fountain Green Road, Bel Air, MD 21015
Quilt: Ice Cream Cone Wagon Wheel
Known for their award-winning ice cream and homemade crab, Broom's Bloom is a dairy farm with a small cafe/grocery that you can stop by for lunch or to pick up dinner! They offer milk, cheese, butter, yogurt, beef, lamb, pork, turkey, chicken, eggs, and more!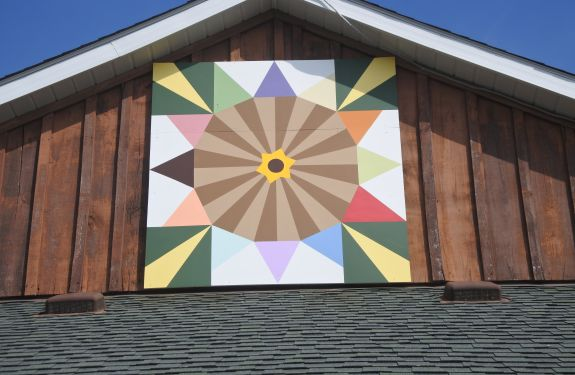 ---
2410 Island Branch Rd, Whitehall, MD 21161
Quilt: Blue Star
Daily Chaos Farm is a 1st generation family owned farm. Our self-serve roadside stand is stocked with farm fresh eggs & other seasonal products. Make an appointment ahead of time to visit all of the cows, pigs, goats, and more!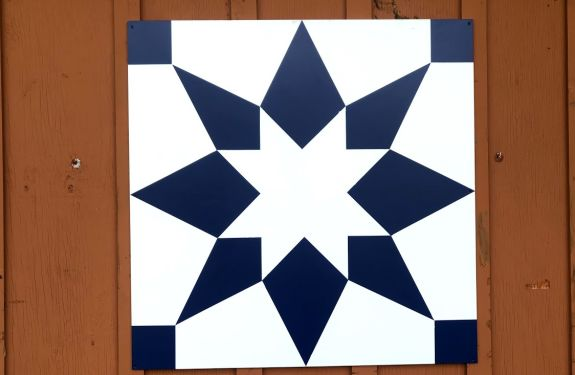 ---
2837 Bradenbaugh Rd, Whitehall, MD 21161
Quilt: Daily Crisis Quilt
With just a John Deere MT at age 14, working and learning on neighboring farms, Dan grew his love of the land and farming as a whole. Not coming from a farm family the Daily Crisis Farm was built from the ground up starting with 6 cows in the early 1980s. Since then we have grown to a 50 cow barn, offering a local supply for small batch cheese, farm fresh butter, eggs and other seasonal products like flowers. Store is open door with a farmers box serving the community as an honor based system.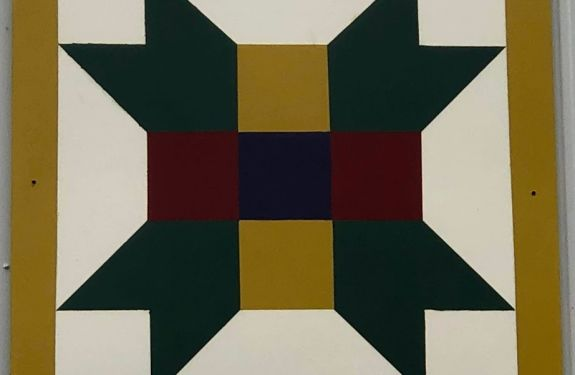 ---
41 Priestford Rd, Churchville, MD 21028
Quilt: Dallam Farm Quilt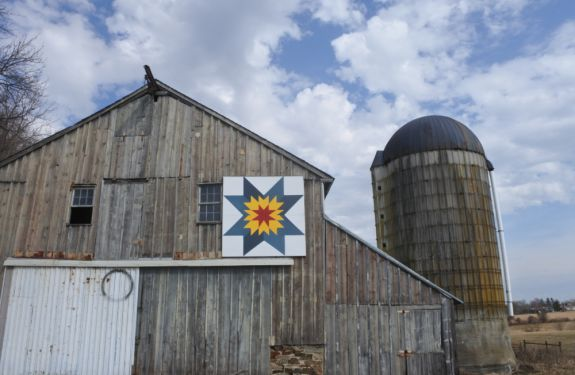 ---
901 Whitaker Mill Rd, Joppa, MD 21085
Quilt: Stars and Stripes
Duncale Farm was established in 1684. The log cabin where the quilt is hung is originally the Union Chapel Church. In 1984 the Cabin was being torn down to make way for the new church. As the story goes, the Magnes family traded firewood for the remaining church structure and rebuilt it as Duncale Farm. John and Theresa Magness along with sons Parker and Jacob currently operate the farm, raise beef cattle, various grains, hay, and produce.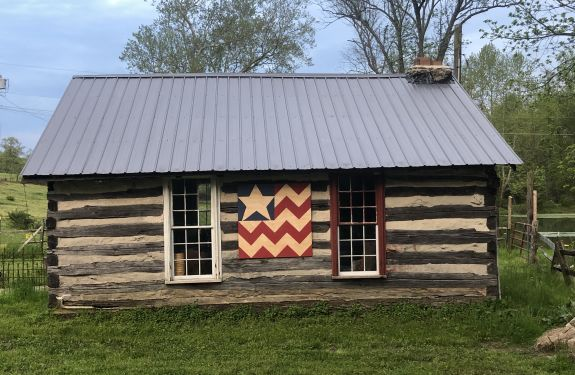 ---
Eden Mill Park Nature Center & Historic Grist Mill
1617 Eden Mill Road, Pylesville, MD 21132
Quilt: Mill Wheat
Nestled in the Deer Creek valley, Eden Mill has stood since approximately 1798. Local farmers brought their wheat, corn, and other grain to the grist mill to be ground into flour, meal, and feed. In 1964, the mill closed its doors due to changing technology and aging equipment. Today, Edem Mill is a mill museum and nature center surrounded by 118 acres of park land.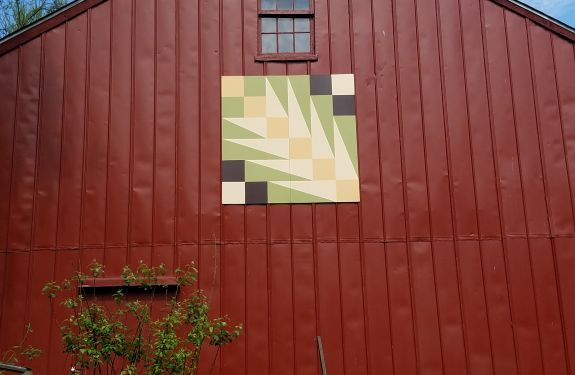 ---
864 Smith Lane, Fallston, MD 21047
Quilt: Lost Geese
Originally owned by Samuel Calwell, a prominent local citizen and signer of the Bus Declaration, this farm has been farmed since the late 1600's. Purchased by Harford County, it is now home to many recreational opportunities including a trail head of the
Ma & Pa Trail, Annie's Playground, soccer and lacrosse fields, a climbing wall and ropes course, and a bike course. Much of the property's 240 acres remains leased to crop farmers.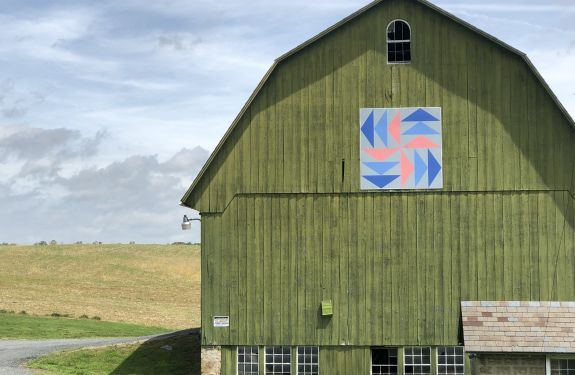 ---
805 Highland Road, Street, MD 21154
Quilt: Laurel Wreath
Falling Branch Brewery is Harford County's first farm brewery led by the farm's 4th generation.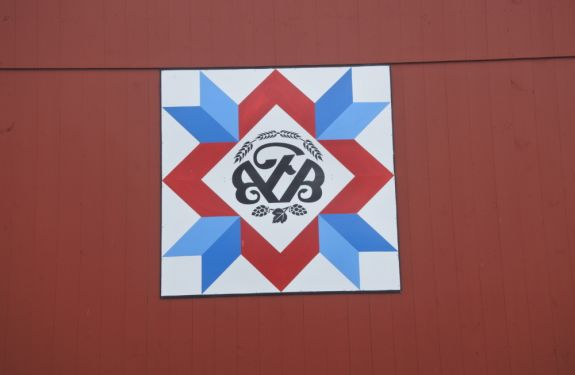 ---
5329 Onion Road, Pylesville, MD 21132
Quilt: Texas Star
Greg and Mary Stewart are a first generation farming operation that operates a seed dealership. They also do direct sales of hay & straw and are grain crop farmers. Mary has further diversified the operation by offering Educational Farm Tours, Birthday Parties, and Farm-to-Table dinners.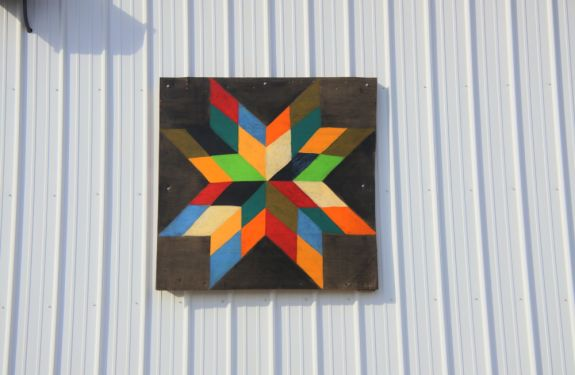 ---
Harford County Agricultural Center
3525 Conowingo Rd, Street, MD 21154
Quilt: Harford County Map
This is the Harford County Barn Quilt Trail official logo.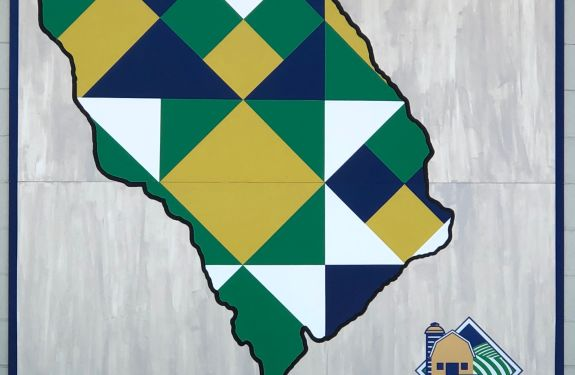 ---
401 Glasgow Rd, Street, MD 21154
Quilt: Sunshine
Martha's Farm Market has been an operating farm for 68 years. Today they have 200 head of dairy and beef cattle and farm 200 acres of crops.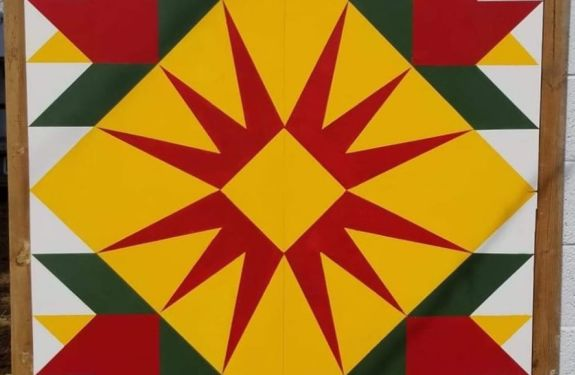 ---
North Harford Future Farmers of America
211 Pylesville Road, Pylesville, MD 21132
Quilt: North Harford Star
North Harford High School is home to a unique Harford County Public School magnet program. The Natural Resources and Agricultural Sciences program began in 2010. The program is a partnership between the school systems, Harford's agricultural community, and the University of Maryland. The barn quilt is located on the lower barn in the Ag side of North Harford High School.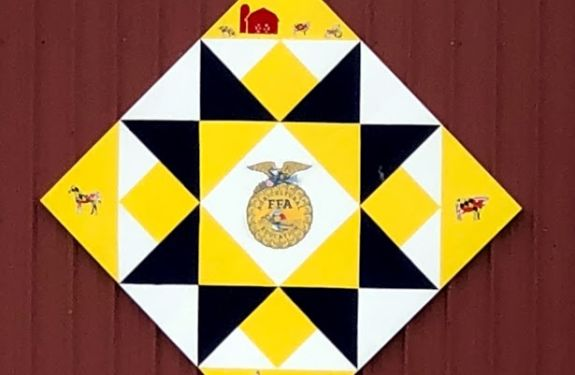 ---
4712 Line Road, Whiteford, MD 21160
Quilt: Maryland and Pennsylvania Flags
Quigley Farm is a 4th generation family farm located on the Mason Dixon Line between Whiteford (Harford County, Maryland) and Delta (York County, Pennsylvania). The town of Whiteford was named after Amy's family, who owned and operated Whiteford Packing Company in Whiteford. It began as a canning house and emerged into a frozen vegetable company. We are proud to have been a community mainstay for employment for several generations of families creating jobs and serving nutritional needs. Now, we continue our family tradition in the produce industry and provide our same community with fresh vegetables and eggs from our youngest generation. The Hanna-Steiner Family now owns and operates a roadside stand year round at the Line Road farm, where they sell seasonal produce, fresh eggs and seasonal goods. Horse-quality hay is also grown and sold by the family.
---
Steppingstone Farm Museum
461 Quaker Bottom Road, Havre de Grace, MD 21078
Quilt: Inspired by a piece in the museum 
The founder of Steppingstone, J. Edmund Bull, wished them to represent the "last rural generation" – people who lived off the land and crafted their livelihoods by hand. Our barn quilt, the first in Harford County, was inspired by a piece in the museum collection and each flower represents the following: Breaking Bread and Community Ancestry of Faith and Hope Fire of Hearth and Forge Herbs – nature's medicine cabinet Mechanics and Ingenuity Spinning and Weaving Native Tribes and the gift of Maize Love, Marriage and New Beginnings.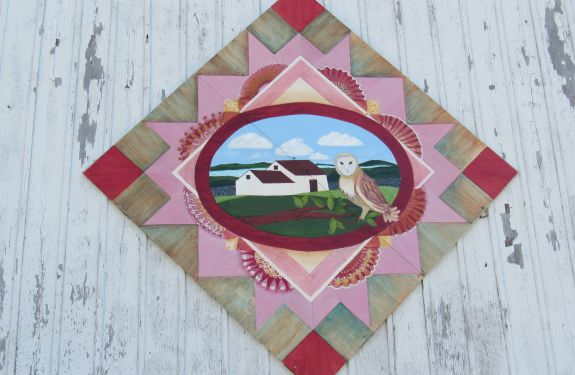 ---
Susquehannock Wildlife Society
1725 Trappe Church Road, Darlington, MD 21034
Quilt: Turtle
Susquehannock Wildlife Society is a 501(c)3 non-profit dedicated to protecting our native wildlife and its habitat in the lower Susquehanna River basin and surrounding areas.  The Susquehannock Wildlife Center is the headquarters of the Society, an epicenter for local wildlife that is being built to further the mission of providing education, research, rescue, and conservation of native species and their habitat.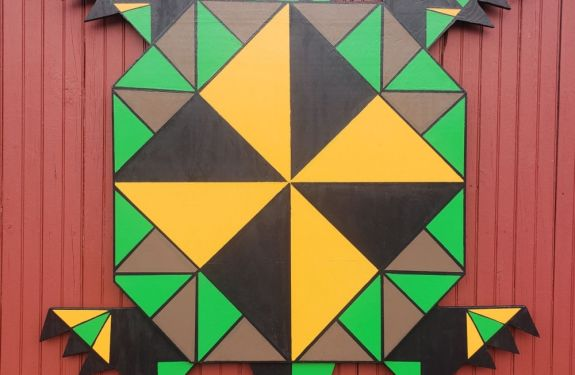 ---
401 Oakington Rd, Havre de Grace, MD 21078
Quilt: Paul Revere's Ride
Situated on over five hundred acres, Swan Harbor Farm, a stately home on the Chesapeake Bay, boasts a long and proud history. In the 1700's, the home was owned by several generations of the Giles family. The most significant owner, however, was John Adlum. Mr. Adlum purchased the farm from Thomas Giles in 1797. From Swan Harbor Farm, John Adlum pioneered wine making in Maryland. In 1809, Mr. Adlum sent a bottle of his fine burgundy to his good friend, Thomas Jefferson. Mr. Jefferson was so impressed with the quality of the wine that he ordered 165 cuttings from Adlum's vines to be planted at Monticello. After the Adlum era and a series of short-term ownerships, John Kenney of Washington, D.C., bought the property in 1951. He added a pool, tennis courts, greenhouse, kitchen-pantry wing and a dining room to suit his upper class lifestyle. In 1986, Mr. Kenney conveyed 520 acres of Swan Harbor Farm to Johns Hopkins University. The University purchased an additional two acres along Oakington Road in 1990. Harford County Department of Parks and Recreation purchased Swan Harbor Farm in 1994, as part of the State of Maryland's Program Open Space. The grounds are open to the public dawn to dusk. The house and tent areas are used extensively from April through October for weddings and other events.
---
424 N. Main Street, Bel Air, MD 21014
Quilt: Sweet Nectar
The Mill of Bel Air first opened in 1886, as Reckord Mill built by Henry Reckord. It 1888, it opened to the public as Bel Air Roller Mill which supplied flour, fertilizer and feed to the surrounding community. In 1957, the company was purchased by H. Smith Walter who renamed the business Bel Air Farm Supply and operated it until 1986. It was then purchased by his grandson, Henry Smith Holloway who eventually renamed it The Mill of Bel Air. The Mill continued to make feed and serviced several adjoining counties with horse and livestock feed, fertilizer for crops and pet food and lawn and garden supplies for the surrounding community. The large mill building became obsolete and was torn down to make way for parking and an expanded lawn and garden area in 2009. The Mill now has 7 locations and makes deliveries within a 150 mile radius of the Bel Air location. The Mill of Bel Air continues to be the keystone location and it's fitting that with it's deep ties to agriculture through the years, that it is part of the Barn Quilt trail.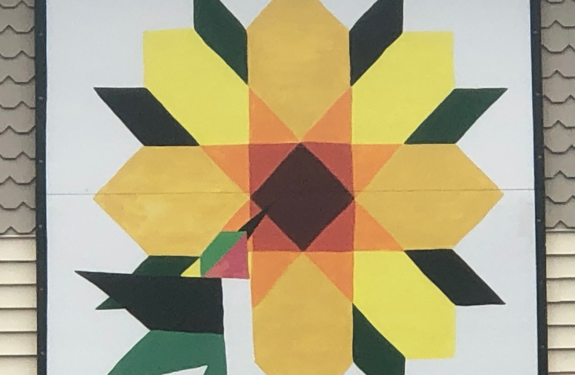 ---
1274 W Jarrettsville Rd, Forest Hill, MD 21050
Quilt: The Golden Rule
Pam's grandparents, Dan and Mary Ensor, bought the family farm in 1949. Mary was a teacher and Dan grew corn and other vegetables as well as raised beef cattle. Pam and her husband Ken purchased the land in 2013. From the barn square you can see the original main house which dates back to the late 1800's (yellow in color) in the distance as well as the metal pole barn built by Pam's Grandfather. Corn, hay, hops and more are currently grown on the farm. Pam and Ken have turned the farm into an agricultural education destination for young and old mixing teaching and farming in line with Pam's grandparent's passions. School field trips, specialized Alpaca Encounters and the Acorn Pre-school Program all focus on teaching farm to table and alpaca/sheep to sweater. Customized farm experiences are also available upon request. Along with a herd of alpaca, the farm also has sheep, horses, donkeys, chickens, goats, a cow and their beloved livestock guardian dog to name a few. A farm store is located in the barn offering high end alpaca apparel, yarn, stuffed animals and other alpaca products. Open houses to shop in the farm store are held in November and December with dates listed on the Three Oaks Farm Alpacas website. The farm store can also be opened for shopping by appointment.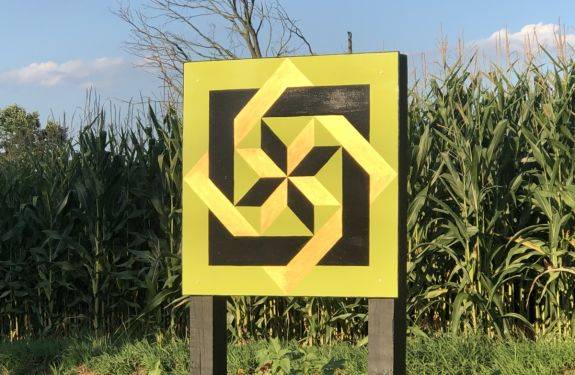 ---
2115 Waverly Drive, Bel Air, MD 21015
Quilt: Friendship Star and Carpenter's Wheel
Wilson's Farm Market has been a part of the community since 1979 when Greg Wilson began to farm and operate the fruit stand at the old stone house on Route One, about 1.5 miles north of our current location. The home farm is located on Forge Hill Road, which he purchased in 1986. This is where most of the vegetables are grown. He raises the balance of the produce at Wilson's Farm Market on Waverly Drive. The home farm also has 12 acres of orchard and 4 high tunnels for early and late tomato production This property had belonged to the Hoopes family, who had an orchard across the street where the church is now. They began construction of the new store in December of 2015 and opened to the public in 2016. They are open daily, year-round, providing local fruit, vegetables, meats, dairy and other specialty products from other farmers within our local area or you can find them at the Bel Air Farmers Market.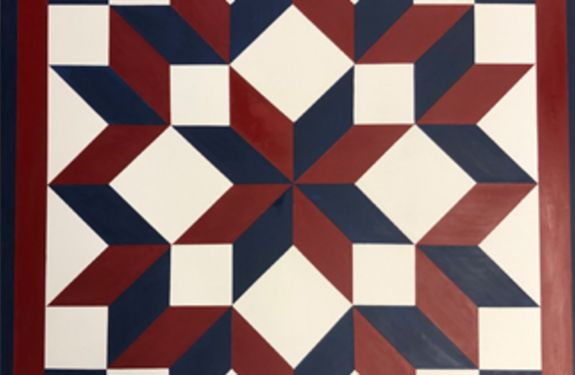 ---