Agriculture has remained an integral part of life in Harford County even as modern conveniences have changed the world. Here, you'll find farmer's markets, an alpaca farm, creameries, orchards, and even an agriculture business incubator where local Harford County farmers and artisans sell their products directly to consumers. Here's how to make the most of all of the agriculture and farms that Harford has to offer.
---

Visit the Agriculture Center and The Grove at Harford
The Harford County Agricultural Center brings the county's agricultural resources together under one roof, housing the Harford County Farm Bureau, Maryland Department of Agriculture Forest Pest Management, Harford Soil Conservation, University of Maryland Extension, and Harford County Agricultural Services.
The Grove is Harford County's agri-business incubator located at the Agriculture Center. It is an outlet for local area farmers, artists and food processors to sell their products directly to consumers and to actively promote agriculture commerce and sustainability in Harford County. The Grove has all kinds of events, sales, and promotions throughout the year, and hosts Fourth Fridays during the summer featuring food and beer trucks.
Other learning experiences in Harford County include Three Oaks Farm Alpacas and Fawn View Farm. Run by a former elementary school teacher, Three Oaks Farm Alpacas hosts a preschool program, class trips, and a retail store dedicated to the history, care, and interaction with alpacas. Fawn View Farms in Pylesville offers scheduled farm tours, special private events,  Community Festivals, Farm to Tables and Farm Markets so the community can experience farming first hand.
---

Harford County You-Pick Orchards
Many Harford County farms offer pick-your-own produce. During strawberry season, Jones Family Farm in Edgewood invites families to their strawberry fields and hosts an annual strawberry festival, and during the winter, you can pick up your Christmas tree and other winter essentials. Check out their stand in Edgewood for a variety of fresh produce, meat, and flowers.
Brad's Produce in Churchville also sells local strawberries from their U-pick fields in addition to a large retail operation offering fresh produce. Check back with both Brad's and Jones for fun fall activities and Maryland sweet corn, and both have CSAs to help support local produce.
You're probably already familiar with Lohr's Orchard's fresh apple cider, but they also host pick-your-own experiences throughout the season. While you're there, check out their fresh pressed cider, pumpkin donuts, and other locally sourced products from right here in Harford County.
---

Farmer's Markets and Artisans
Harford County is proud to support local agriculture and sustainability with three large farmer's markets located throughout the county. Each market hosts different local artisans, creameries, and farms, where you're sure to find unique gifts, delicious cheese, treats, and locally-sourced meat and eggs. 
The Bel Air Farmer's Market is open on Saturdays from 7AM-11AM in the District Courthouse parking lot and has supported local vendors for the past 46 years. If you're not a morning person, check out the Aberdeen Farmer's Market in Festival Park on Thursdays from 4PM-7PM. 
Many Harford County farms partner with retailers throughout the county to offer their products in more locations. You'll find Broom's Bloom Dairy ice cream at Concord Point Coffee in Havre de Grace if you can't make it to their creamery in Churchville for delicious ice cream. You can also find Keyes Creamery products at Lohr's Orchard and Belvedere Farm's cut flowers at the Bel Air Farmer's Market, so you're always close to something proudly grown, crafted, or produced right here in the heart of Harford.
---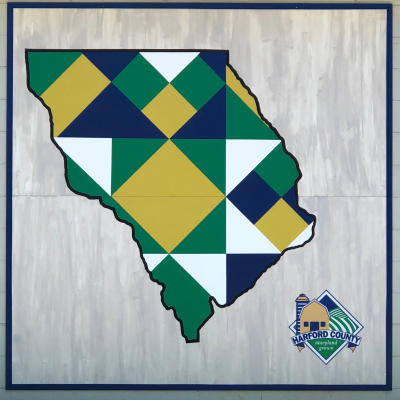 Plan Your Visit
Harford County is proud to be home to many farms and farmers! We encourage you to download our free Destination Harford app to explore hidden gems across the county and to play along with our Barn Quilt Trail, which will introduce you to some of the area's farms and earn you prizes along the way!
---