Harford County, Maryland is your destination this holiday season, from experiences that make it feel like a Hallmark holiday movie, to picturesque landscapes that will captivate your senses. Holiday season in Harford is sure to be…magical!
 
---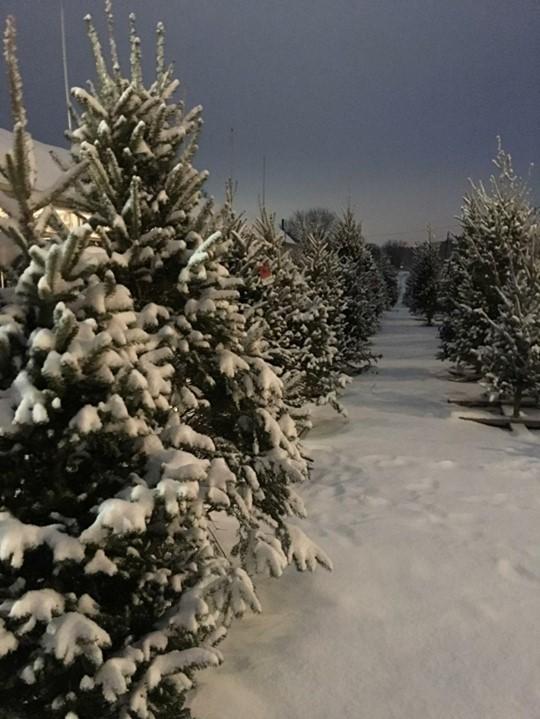 Image: Jones Family Farm in Edgewood, MD
Grab the family and the station wagon! It's time to start looking for the best Christmas tree to begin decorating. Harford County has so many selections of trees at our local farms where you can get the entire experience – choose-and-cut-your own, YOU-choose-and-THEY-cut, or find the best pre-cut Christmas tree to take home. The tree-chopping isn't the only thing you can do while you're at any of Harford's seven Christmas Tree Farms! Many have other fun winter activities like sleigh and wagon rides, along with visits from Mr. and Mrs. Claus!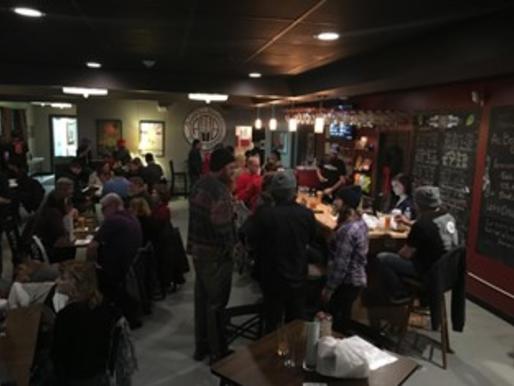 Image: Inside Alecraft Brewery
As you make your way along Harford's Libation Trail, you'll find that many of Harford's breweries and wineries have their holiday seasonals ready on tap for you to enjoy! Alecraft Brewery has unveiled their "Sledding Around Fruited Holiday Ale" that's infused with a delicious cherry flavor, while Fiore Winery has their Mulled Wine Spice Bags ready for purchase! Or, if you have a sweet tooth, check out Hopkins Farm Brewery's Turtle Dovin' Chocolate Caramel Sea Salt Stout or Mount Felix Winery's cranberry wine! Not a fan of beer or wine? Slate Farm Brewery has also released their Winter Sangria Seltzer to keep you feeling that holiday cheer with loved ones as you travel along the Libation Trail! Looking to get to and from these stops safely? Book a ride with Harford Brew Tours for safe, fun, and reliable transportation to your favorite Harford County stops this winter season!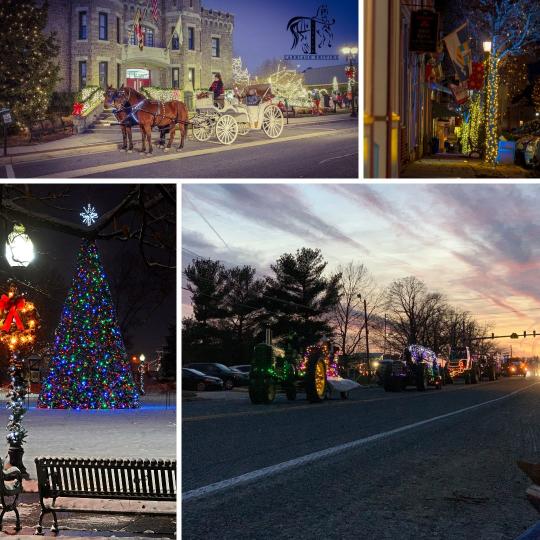 Images (from top left to bottom right): Bel Air's Winter Wonderland, Downtown Havre de Grace, Aberdeen Christmas Tree Lighting, Highland Tractor Parade.
December is here and that means – parades, festivities, and more parades! In addition to Harford's parades, we also have a multitude of holiday festivities- from Bel Air's Winter Wonderland to Aberdeen's Candyland Holiday Celebration. If you are looking for more ways to spread some holiday cheer, look no further than Harford County, where we've got so many events to get you feeling festive this season. Harford County has your holiday line up ready.
Havre de Grace Christmas Parade and Tree Lighting 
Aberdeen's 45th Annual Christmas Street Celebration 
Bel Air Winter Wonderland Festivities 
Image: New Year's Eve Duck Drop in Havre de Grace, Maryland
It's hard to believe that 2022 is almost over and we are ringing in 2023! Time may be flying by, but on December 31st, you can find your spot at the Concord Point Park for the incredible New Year's Eve Duck Drop! Havre de Grace, known as the Decoy Capital of the World, is back to ring in the new year as we reminisce on the memories, we've made in 2022 and celebrate the opportunities to come in the New Year. Come out for the beautiful fireworks display and stay over in one of our great accommodations so that you can ring in the new year in Harford!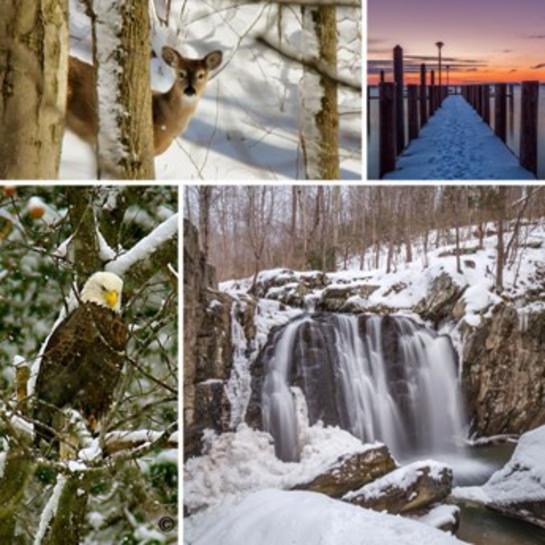 Images (from top left to bottom right): Deer in the Snowy Woods by Frank Marsden, Havre de Grace Snowy Pier by Travis Foreman, Eagle in the Snowy Woods by Frank Marsden, Winter at Kilgore Falls by Travis Foreman
First Day Hikes, offered each year on New Year's Day, is a free program of free, guided hikes offered by the Maryland Department of Natural Resources. Venture out to one of Harford County's state parks for this program, or visit the nature centers, gardens, or trails. Experience captivating scenery, wildlife, and unique wooded or waterfront features. Stay for the Duck Drop and discover beautiful landscapes.
---
These are just a few of the many experiences and memories that can be made in Harford County this holiday season. Plan your visit to Harford County, Maryland by checking out VisitHarford.com for more trip ideas and unique Harford experiences.